The pandemic has kicked off a career boom for robots in sectors like warehouse ops, contactless services, sanitization, agriculture, and last-mile delivery.
Contactless delivery: "Delivery is the largest un-automated industry in the world," said Ahti Heinla, co-founder of robo-delivery startup Starship Technologies, in a Wednesday panel. He added that Starship's business volume has tripled since the onset of Covid-19.
At the same panel, Kathy Winter, VP of Intel's IoT Group, said that contactless experience will be the key trend for robotics in 2021 and beyond. "You're going to see a lot more touchless experience in general, whether it's in your vehicle...[or] robots running around, or screening at the airport."
Agriculture: It's another fast-growing area for robots, especially as the world's population grows and climate change leads to unpredictable weather. That's why ag-focused bots typically score a couple of spots in CES's Innovation Award lineup.
John Deere won in Robotics for the second year in a row, this time with its X-Series Combine. Available now, farmers can use the machine—which comes with autonomous driving tech, computer vision, cameras, and integrated sensors—to harvest crops as soon as they ripen.
Daesung landed an honoree title with its Hive Controller, an automated machine for removing a honeycomb from a beehive. The company is currently raising funds on Indiegogo—no word yet on production timeline.
- Hayden Field
Welcome to our day one CES coverage. Scroll down to read about the most interesting emerging technologies we saw across 5G, smart home, robotics, mobility, wearables, mixed reality, and more.
We're updating this page through the morning of January 13. Click here to go back to our general CES coverage hub.
---
5G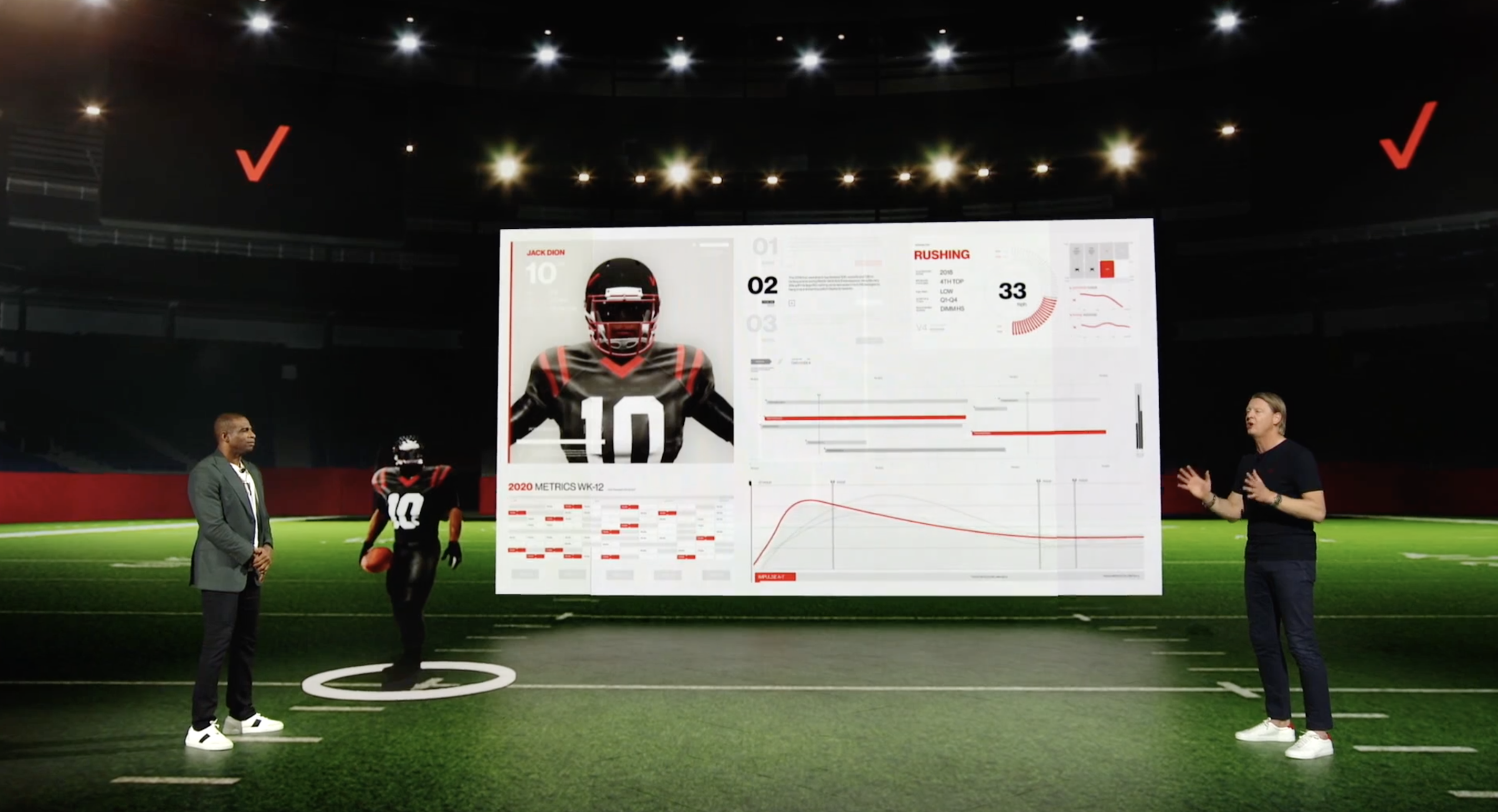 Verizon
At Verizon's keynote Monday night, chairman and CEO Hans Vestberg gave a rundown of what 5G—particularly Verizon's "ultra wideband" brand of it—could realistically accomplish. The essential qualities for 5G that he outlined in 2019 are finally a reality, he said, including:
Peak upload and download speeds (the "fastest in the world").
High capacity and ultra-low lag time, which could theoretically support one million connected devices per square kilometer.
The ability to maintain signal when traveling at up to 310 miles per hour.
The real deal: Vestberg talked a big game, but he also laid out Verizon's near-future plans for actually integrating 5G ultra wideband into consumers' day-to-day. In 2021, the tech is slated to roll out in 28 NFL stadiums and 15 Live Nation venues...assuming the spaces are cleared for crowds sometime this year.
It'll also be deployed with the Smithsonian and the Met, in digitizing artifacts and creating AR museum experiences.
And one more thing: Verizon and its drone subsidiary, Skyward, teamed up with UPS to use 5G-connected drones to deliver packages in Florida. Last year, the program focused mostly on medicine, but he hopes it'll expand into all areas of delivery.
- Hayden Field
https://www.vlive.tv/post/0-20831605
https://www.vlive.tv/post/1-20838426
https://www.vlive.tv/post/0-20831635
https://www.vlive.tv/post/1-20838449
https://sites.google.com/view/s23df/
https://sites.google.com/view/watch-wonder-woman-1984-ww8420/
https://sites.google.com/view/kj87h/
https://sites.google.com/view/vodlockerr-ww84-wonder-woman/
https://sites.google.com/view/nm10o/
https://sites.google.com/view/on4ae/
https://sites.google.com/view/free-watch-full-wonder-woman/
https://sites.google.com/view/um1on/
https://sites.google.com/view/om5aw/
---
Robotics
Meet Samsung's two new homebots, both of which are currently in development (as in: no word yet on when they'll go to market).robots for the home.
"Bot Care": This bot operates as a personal assistant—analyzing your behavior to suggest you take a screen break, for example, or checking your schedule to remind you about a conference call.
"Bot Handy": Designed to grab or handle any object in the home, this bot classifies items by shape and material (think: a wine glass or porcelain plate). Feel free to pawn off chores like putting away groceries, setting the table, loading the dishwasher, and even pouring a glass of wine.
Moving on over to the "cutesy" category…
Moxie (by Embodied): This wide-eyed, smiling bot was created in partnership with child education and development experts, with the aim to provide children with "play-based learning" and social/cognitive skill-building. Moxie uses machine learning to process—and generate responses to—conversation, eye contact, and facial expressions.
Moflin (by Vanguard Industries): This furry floofball scored a CES Innovation Award for the way it uses AI to display a range of "emotional capabilities," somewhat akin to a living pet. Moflin uses sensors to analyze its surroundings and identify patterns, responding with a number of sound and movement combinations.
Finally, since we're all sitting at home watching the dust collect, we're seeing a lot of new robo-vacs.
Top contenders: Samsung's JetBot 90 AI+ uses lidar sensors to navigate and can empty its own dustbin. Eufy's RoboVac L80 can store more than one floor map and uses lasers to determine the most efficient path for cleaning. And the Roborock S7 uses surface detection tech to auto-lift the mop when running over carpet (and lower it for other surfaces).
- Hayden Field
---
Automotive
Mercedes
In recent years, some show-goers have described CES as a car show. Feels accurate this year.
Electric: Bright and early on Tuesday, GM Chairman and CEO Mary Barra kicked off the official show with a keynote. She underscored the legacy automaker's all-in bets on the future: Between 2020 and 2025, GM plans to spend $27 billion to expand its fully electric portfolio, further develop automated driving features, and eventually roll out autonomous vehicles.
GM came with a couple surprises. It's launching a new business, BrightDrop, that aims to electrify delivery and logistics.
Flying: GM's second surprise = It may eventually make eVTOLs (electric vertical takeoff and landing aircraft, or flying cars). The company revealed renderings of a concept flying Cadillac, a four-rotor one-seater that could fly at speeds up to 56 mph. GM didn't say much beyond that or commit to actually making it.