Do you own a herd of goats that are skilled at hauling heavy loads across plateaus and hilly regions? When you try to maneuver pack animals up treacherous roads on hitches far away from their dwelling, the one thing that makes this ride easy is having goat packs, goat pack saddles & goat panniers.
In fact, an inexperienced packer does crazy stuff when it comes to tying loads onto their pack of goats. On the other hand, an experienced packer meticulously ties down goat pack-saddles and hauls it to camp without losing even a single packing gear.
Here is a list of items every pack animal owner needs to have in his kit for safe passage across the land:
Pack System
Goats travel in packs or herds, and they are known as beasts of burden, as they carry precious cargo without much of a difficulty. Generally, large wether bucks are used for packing. So why traversing long distances, one of the essential items to have are pack systems. There are various types of pack systems such as - hill pack system, ridge pack system, summit pack system, plateau pack systems, valley pack systems, and many more. All of the pack systems vary on the basis of the area you might be traversing through. These are complete systems that can get your goat packs on the trail for a significant period. They stay steady through rough areas of the trail, strapped onto the chest. They have a variety of color options and can also be chosen on the basis of the type of animal.
Saddles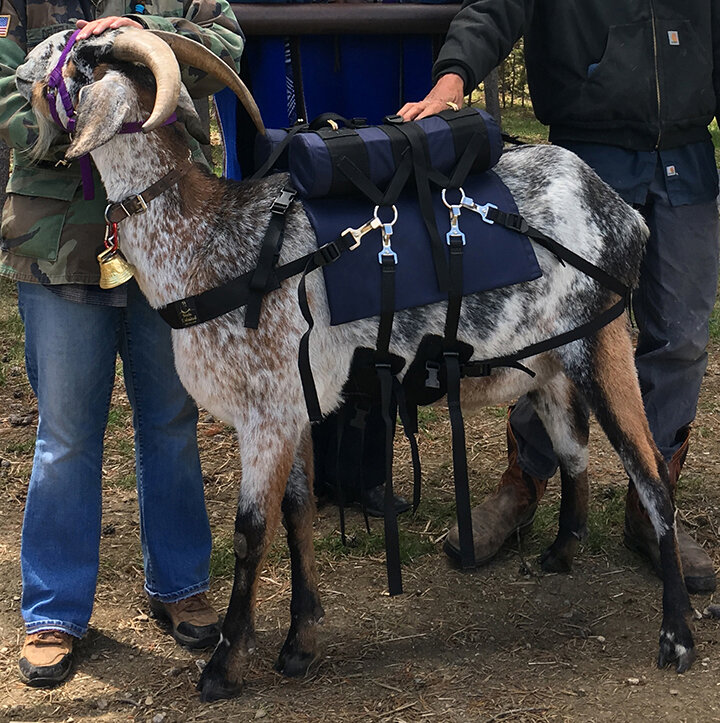 If you rely on a beast of burdens such as those animals from the equine variety or even a Llama or Alpaca, then getting saddles is equally important. The saddle you choose needs not only to be sturdy for men to travel on but also equally comfortable for animals to bear. For smaller animals such as a pony, goat packs, or young Llama's, rookie saddles. These saddles come with pads, cinches to tighten, chest straps, and breaching as well. By adding split pads underneath the saddles, it aids in avoiding being uncomfortably seated on the spine.; This also allows body heat to escape through the saddle. They also allow the absorption of shock and prevent it from crumbling under the weight of the load. Saddle pads also protect the equine's back from friction that results from saddle rubbing against the equine's skin or hair. They also come in a variety of colors that you can choose from.
Panniers
For newbies into the backpacking world with your goats, equines, or llamas, a pannier is a basket-like a bag that can be slung over the back of any beast of burden or even attached to motorcycles or bicycles. If you are hitching a ride on your beast of burden for a few days at a stretch, you might want to carry items to travel with. You could easily carry a few clothing items, small tent materials, vessels for easy cooking, lighters, torchlight, lamps, food, water, and many more such items depending on the duration of travel and weather conditions in the area of travel. These panniers come in different weight categories, have extra-large sized compartments, pockets and are extremely durable. They can be used on multiple trips for years to come. They are made from sturdy materials and are best used with pannier stabilizing bars. They, too, come in a variety of color options. So, if you are traveling with a pack of goats, consider getting goat panniers for them.