Every upload from South Korean celebrities really grabs the attention of fans all over the world. In fact, sometimes these celebrity uploads also get the spotlight from their celebrity colleagues.
This time, Son Ye Jin is seen getting comments from his celebrity colleagues on one of his new uploads via his personal Instagram account, @yejinhand. Son Ye Jin was seen sharing one of the results of his new photo shoot through his personal Instagram account.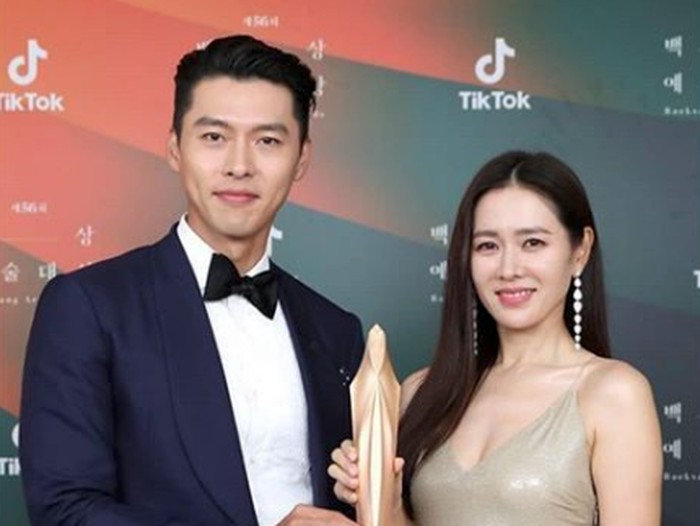 Son Ye Jin looked beautiful with natural makeup in the photo shoot. The beautiful actress is even more stunning with flower accessories placed on her head.
Also read ...
Bucin, Son Ye Jin doesn't hesitate to like Hyun Bin's photo uploaded by fans
Photos of high school graduation are scattered, Son Ye Jin's innocent natural beauty when he is young makes netters bengong
Appearing with a Mix Match with Spring Koleski, Visual Son Ye Jin Becomes a Crocodile Ladies Model in the Spotlight
Guessing from Son Ye Jin's Loyal Nature, Netizens Wish for the Actress
##
Kim Jong Kook admits that he has been dating Song Ji Hyo for a long time on 'Running Man'
'Running Man' members were given the opportunity to choose between Team Yoo Jae Seok and Kim Jong Kook. Lee Kwang Soo Cs was also released from exchanging teams depending on the mission.
Running Man "presents the latest episode on Sunday (21/3). In the latest episode of the SBS program, the production team made a special theme for the competition of two Daesang winners, namely Yoo Jae Seok and Kim Jong Kook.
"Running Man" was given the opportunity to choose Yoo Jae Seok and Kim Jong Kook's team. Lee Kwang Soo cs was also released from exchanging teams depending on which mission they were going to do.
What's interesting is that in the last mission, all the members left Kim Jong Kook except for Song Ji Hyo. That is because the last mission is a matter of knowledge so that Haha cs feels it will be advantageous to join Yoo Jae Seok's team.
Because only Song Ji Hyo was left in his team, Kim Jong Kook treated Ace special. The singer of "One Man" even invited Song Ji Hyo to sit together on the sofa to make the other members tease her.
"I'm sorry, but are you his girlfriend?" asked Yoo Jae Seok. Song Ji Hyo answered that question by immediately wrapping her arm around Kim Jong Kook's arm. "You are very suitable," said the other members of "Running Man".
"I can't even wrap my arms because the arms are too thick," Song Ji Hyo replied. Kim Jong Kook responded to the "Running Man" members' jokes with a shocking statement.
https://newarka.instructure.com/eportfolios/9132/Home/DOWNLOAD_Doors_2021__1080P
https://usmpvirtual.instructure.com/eportfolios/534/Pgina_de_Inicio/_Doors_2021__HD_
https://rgvcollege.instructure.com/eportfolios/5453/Home/_Doors__2021HD
https://judgememorial.instructure.com/eportfolios/2926/Home/___Doors2021_
https://zacksnydersjusticeleagueganzerfilmdeutsch.mypixieset.com/
"We've been dating for a long time," said Kim Jong Kook. "How could you date her for such a long time?" asked Yoo Jae Seok. "Don't we look like family already?" said Kim Jong Kook.
Meanwhile, Kim Jong Kook and Song Ji Hyo ended up receiving punishment for having the fewest points. They invited Jeon So Min to participate in receiving the punishment.
###
Yoon Jong Hoon Revealed by Kim Hyun Soo's biological father, 'Penthouse 2' was responded unfriendly
Penthouse 2 'Only Has 12 Episodes And Later The Production Team Will Air Season 3. Season 3 Of This SBS Drama Reportedly Will Only Show Once A Week.
aired the tenth episode on Saturday (20/3). In the latest episode of the hit drama, Oh Yoon Hee (Eugene) is revealed who the real father of Bae Ro Na (Kim Hyun Soo) is.
Oh Yoon Hee visits Ha Yoon Chul (Yoon Jong Hoon) at the police station because the man is accused of bribing someone to be the perpetrator of Bae Ro Na's murder. Oh Yoon Hee wanted to torture Ha Yoon Chul and reveal the truth.
Oh Yoon Hee said that Ha Yoon Chul is Bae Ro Na's realm. The man, of course, was shocked to learn that fact. Plus Oh Yoon Hee immediately intended to leave after revealing this fact until Ha Yoon Chul screamed hysterically.
The latest fact from "Penthouse 2" immediately flooded the comments of Indonesian fans. Many have guessed that Ha Yoon Chul is Bae Ro Na's real father. Not a few fans responded cynically because the plot was even more stressful.
For a long time, I was stressed myself thinking about this drama, I was tricked again and again, "wrote a fan." What the hell do you understand, the mood of the drama is not messy, "continued another. comedy, "added another.
"Tired huh ?? the same as me too :) I didn't watch the drama, it was really tough, I watched this emotion congenital, gimane adeee, the color of her son, dr. Ha means that Eun byeol is the same color as sibling dong suggest, too many tws plots that make the brain puff up, even though I'm honest ngeship seokhoon with Eun byeol woy, "concluded the other fans.
Meanwhile, "Penthouse 2" only has 12 episodes and the production team will broadcast season 3. However, different from the previous two seasons, "Penthouse 3" reportedly will only air once a week. The production team also divulged that in each episode, this drama will always present an interesting plot twist. Don't miss watching it.