President Joe Biden has declared a major disaster in Texas, clearing the way for more federal funds to be spent on relief efforts in the US state.
Power is returning across Texas and temperatures are set to rise, but at least 14 million people still have difficulty accessing clean water.
Mr Biden has said he will visit Texas as long as his presence is not a burden on relief efforts.
Nearly 60 deaths have been attributed to cold weather across the US.
The administration had already declared a state of emergency for Texas, along with Oklahoma and Louisiana.
In a statement on Texas released by the White House, President Biden said he had "ordered federal assistance to supplement state and local recovery efforts in the areas affected by severe winter storms".
"Assistance can include grants for temporary housing and home repairs, low-cost loans to cover uninsured property losses, and other programmes to help individuals and business owners recover from the effects of the disaster," the statement said.
Mr Biden has been in touch with the mayors of some of Texas' biggest cities, such as Houston, Austin and Dallas, to ensure they have access to government resources, an administration official said.
Texas family 'trying to keep warm'
How to stay safe in freezing weather
In pictures: Snow blankets Texas
Several other southern states hit by snow and ice storms this week have also reported water service outages.
Winter weather also cut off water in the city of Jackson, Mississippi - home to around 150,000 people - as well as the largest county in Tennessee that includes the city of Memphis, with more than 651,000 residents.
City officials in Jackson say water treatment plants are now running again, but 43,000 households still have no or low water pressure, WLBT TV reports.
Across the US South, a region unaccustomed to such frigid temperatures, people whose pipes have frozen have taken to boiling snow to make water.
What is happening in Texas?
The south-western state's energy grid was overwhelmed by a surge in demand for heat as temperatures plummeted to 30-year lows, hitting 0F (-18C) earlier this week.
Nearly 80,000 homes were still without electricity on Saturday morning. Earlier this week, amid freezing temperatures as many as 3.3 million homes and businesses were without power.
But the power company, Electric Reliability Council of Texas, said consumers were no longer being asked to conserve energy.
Close to half of the state's population have faced some disruption of water services as hundreds of water systems have been damaged by the freeze.
Austin, the state's capital, lost 325 million gallons (1.2 billion litres) of water when pipes burst.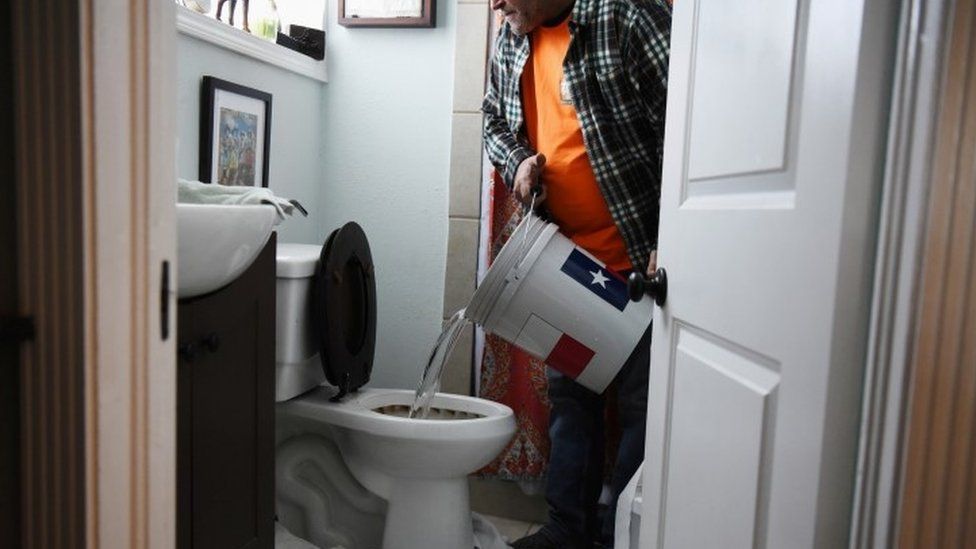 IMAGE COPYRIGHTREUTERS
image captionPeople are still facing problems with water supplies
Texas' largest city, Houston, is under a so-called "boil water notice", with the US Centers for Disease Control and Prevention (CDC) advising that all water planned for consumption - even if filtered - must be boiled as it may be contaminated.
The advisory could go on into Monday, the Houston Chronicle reports.
Texas Governor Greg Abbott has thanked President Biden for the major disaster declaration, describing it as "an important first step".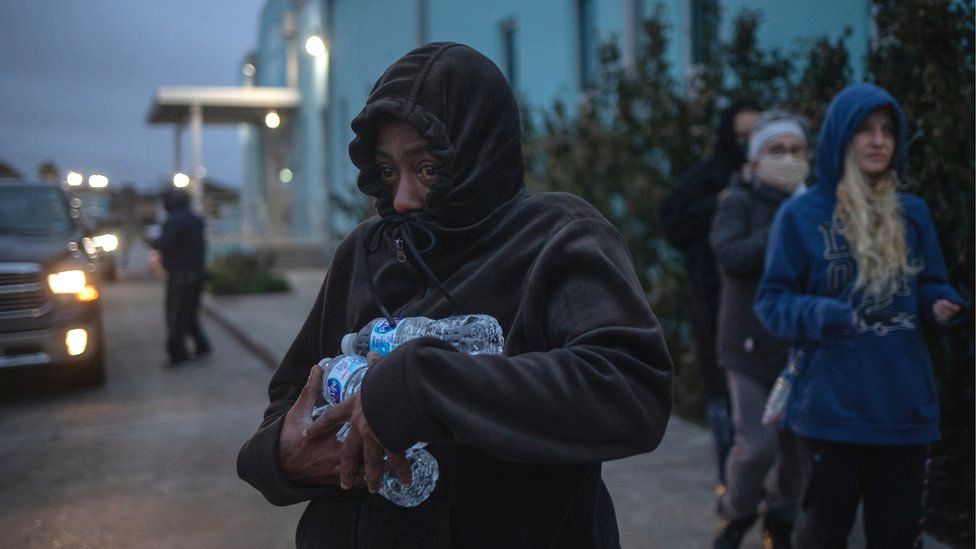 IMAGE COPYRIGHTREUTERS
image captionPeople collect bottled water from a shelter in the city of Galveston, Texas
Water pipes have been bursting across Texas due to the freeze, and local plumbers have struggled to meet demand. Officials say more are headed to Texas to help out.
New York congresswoman Alexandria Ocasio-Cortez said on Saturday she had raised more than $3m (£2.1m) in donations as part of relief efforts for Texas.
"When you already have so many families in the state and across the country that are on the brink, that can't even afford an emergency to begin with, when you have a disaster like this, it can just set people back for years, not just for days," she said, speaking at a Houston food bank.
The BBC is not responsible for the content of external sites.View original tweet on Twitter

Some easing is expected as temperatures are expected to rise in Texas in the coming days, according to the National Weather Service (NWS).
As the state grappled with the weather crisis, Texas Republican Senator Ted Cruz faced a backlash after he left Houston on Wednesday for a vacation in Mexico with his family.
Texas Senator Ted Cruz flew to Mexico amid storm
Mr Cruz apologised on Thursday and returned to the US after initially planning to stay through the weekend.
How deadly has the storm been?
The recorded deaths in Texas include people who have died in traffic accidents, as well as some who suffered carbon monoxide poisoning from running cars and generators indoors to stay warm.
In Harris County, home to Houston, there were more than 300 suspected cases of carbon monoxide poisoning during the cold snap.
At least four people were killed following a house fire in Houston that officials said may have been started by candles.
Separately, police said two men found alongside a Houston highway were believed to have died due to the cold.
Why is Texas seeing Arctic temperatures?
Are frozen wind turbines to blame for power outages?
Texas freeze shuts chip factories amid shortages
An 11-year-old boy died after temperatures outside his unheated mobile trailer home fell to below freezing. Authorities are now investigating whether Cristian Pavon, who was born in Honduras and saw snow for the first time in his life the day before his death, succumbed to hypothermia on Tuesday.
Carrol Anderson, a 75-year-old Vietnam War veteran, died in his truck after he ran out of the oxygen tanks he used to breathe and went outside to get a spare.
Two other men died in their homes and another man was found dead in a car park.
https://demo.ckan.org/dataset/watch-free-to-all-the-boys-always-and-forever-2021
https://open.socialcapitalmarkets.net/user/4457?profiletab=main
https://open.socialcapitalmarkets.net/user/4459?profiletab=main
https://open.socialcapitalmarkets.net/user/4460?profiletab=main
https://open.socialcapitalmarkets.net/user/4461?profiletab=main