Snow and ice has brought treacherous conditions to many parts of the UK overnight, with the cold snap forecast to continue into the new year.
Bands of rain, sleet and snow were moving across the country on Tuesday morning, bringing dangerous driving conditions, particularly in Manchester, Gloucestershire, Wiltshire and Berkshire, the Met Office said.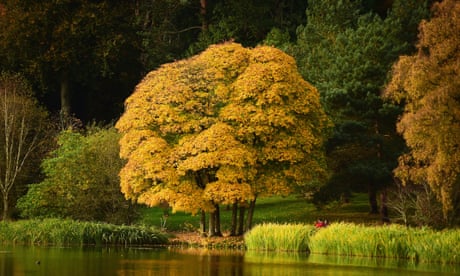 Year of extreme weather creates confusion for Britain's flora and fauna
In east Lancashire, there were "lots of collisions coming in as the snow falls heavily", according to Terry Woods, the deputy chief constable of Lancashire, while Highways England also warned motorists of snow-covered roads.
The AA said regional restrictions, imposed because of Covid-19, meant roads were quieter than normal.
A yellow warning for snow and ice for much of England, Wales and Scotland would remain until 10am after heavy snowfall in some regions, with more wintry weather expected on Wednesday and Thursday.
The warning area was extended at 2am to cover more of southern and central Scotland, as well as further south-east to include parts of Lincolnshire and Nottinghamshire.
Freezing fog patches were likely to be slow to clear in parts of England and western Scotland, the Met Office added.
Temperatures were close to freezing in central Scotland and parts of the Midlands, a Met Office graph showed, and were between 2C (35.6F) and 4C elsewhere, rising to 7C in Plymouth.
The Met Office said: "Wintry showers will start to fade inland in the afternoon, but they will continue to stream into coastal areas, northern Scotland and Northern Ireland."
Temperatures in the afternoon were forecast to be approximately 4-7C across the UK, turning cold quickly in the evening with widespread frost.
Swathes of London, the south, south-west, plus the east of England and Wales and parts of the Midlands, have also been warned snow and ice could cause disruption on Wednesday and Thursday.
A low-pressure system was expected to merge rain with cold air, turning to snow over hills and lower areas.
The Met Office said further warnings were likely this week as the cold snap continued into 2021.
and it's nearly the end of the year, we have a small favour to ask. Millions have turned to the Guardian for vital, independent, quality journalism throughout a turbulent and challenging 2020. Readers in 180 countries, including the Netherlands, now support us financially.
We believe everyone deserves access to information that's grounded in science and truth, and analysis rooted in authority and integrity. That's why we made a different choice: to keep our reporting open for all readers, regardless of where they live or what they can afford to pay. This means more people can be better informed, united, and inspired to take meaningful action.
In these perilous times, a truth-seeking global news organisation like the Guardian is essential. We have no shareholders or billionaire owner, meaning our journalism is free from commercial and political influence – this makes us different. When it's never been more important, our independence allows us to investigate fearlessly, and challenge those in power.
In this unprecedented year of intersecting crises, we have done just that, with revealing journalism that had real-world impact: the inept handling of the Covid-19 crisis, the Black Lives Matter protests, and the tumultuous US election.
We have enhanced our reputation for urgent, powerful reporting on the climate emergency, and moved to practice what we preach, rejecting advertising from fossil fuel companies, divesting from oil and gas companies and setting a course to achieve net zero emissions by 2030.
If there were ever a time to join us, it is now. Your funding powers our journalism, it protects our independence, and ensures we can remain open for all. You can support us through these challenging economic times and enable real-world impact.
When lockdown began, climate scientists were horrified at the unfolding tragedy, but also intrigued to observe what they called an "inadvertent experiment" on a global scale. To what extent, they asked, would the Earth system respond to the steepest slowdown in human activity since the second world war?
Environmental activists put the question more succinctly: how much would it help to save the planet?
Almost one year on from the first reported Covid case, the short answer is: not enough. In fact, experts say the pandemic may have made some environmental problems worse, though there is still a narrow window of opportunity for something good to come from something bad if governments use their economic stimulus packages to promote a green recovery.
During the northern hemisphere spring, when restrictions were at their strictest, the human footprint softened to a level not seen in decades. Flights halved, road traffic in the UK fell by more than 70%. Industrial emissions in China, the world's biggest source of carbon, were down about 18% between early February and mid-March – a cut of 250m tonnes. Car use in the United States declined by 40%. So light was humankind's touch on the Earth that seismologists were able to detect lower vibrations from "cultural noise" than before the pandemic.
The respite was too short to reverse decades of destruction, but it did provide a glimpse of what the world might feel like without fossil fuels and with more space for nature.
https://engsci.utoronto.ca/forums/topic/123movies-watch-after-we-collided-2020-full-online-movie-free-hd/
https://engsci.utoronto.ca/forums/topic/123movies-watch-tenet-2020-full-online-movie-free-hd/
https://engsci.utoronto.ca/forums/topic/123movies-watch-demon-slayer-mugen-train-2020-full-online-movie-free-hd/
https://engsci.utoronto.ca/forums/topic/123movies-watch-soul-2020-full-online-movie-free-hd/
https://engsci.utoronto.ca/forums/topic/123movies-watch-monster-hunter-2020-full-online-movie-free-hd/
https://engsci.utoronto.ca/forums/topic/123movies-watch-wonder-woman-1984-2020-full-online-movie-free-hd/
https://engsci.utoronto.ca/forums/topic/123movies-watch-the-croods-a-new-age-2020-full-online-movie-free-hd/
https://engsci.utoronto.ca/forums/topic/123movies-watch-news-of-the-world-2020-full-online-movie-free-hd/
https://engsci.utoronto.ca/forums/topic/123movies-watch-the-war-with-grandpa-2020-full-online-movie-free-hd/
https://engsci.utoronto.ca/forums/topic/123movies-watch-ammonite-2020-full-online-movie-free-hd/
https://millotv.cookpad-blog.jp/articles/559216
https://www.posts123.com/post/1196736/xgxdgadeyhadsh
https://darkwinnerdreamer.tumblr.com/post/638836633455689728/dxkmdxkxdr
http://www.4mark.net/story/2992847/chbsfuestuetirryityi
https://www.atoallinks.com/2020/australias-billionaires-became-50-richer-during-pandemic/
https://www.hybrid-analysis.com/sample/1582d34fd68dad467e2789078ad0d9a908cfb1214bf8def9743b1e650206a319
https://www.hybrid-analysis.com/sample/1ba2dd49a4c187bae4db64d6f3e0e573df5464904d91be32030d29718487f212
https://www.peeranswer.com/question/5feb15807c7c27c656103685
https://www.topfind88.com/post/1196769/rdxkxrdkrdxldrx