Wedding day is absolutely one of the most special days that people will keep in memory for life, thus everything there needs to be perfect--the wedding candy favor is no exception. So what kind of boxes to use for favor candies and what to put inside the wedding candy boxes are among those important details you have to address! But it may be difficult to decide what to put inside. It is important to think about what tastes will appeal to the guests as well as how the containers will look when full with treats.
What wedding favor boxes are you going to choose?
What type of wedding favor boxes to use largely depends what kind of life styles and philosophy the newly-married couples and their guests. Some would choose the bright-colored, novel and lovely plastic gift boxes, some prefer to minimalistic kraft gift boxes; and some prefer to vintage favor boxes while some would use exotic styles. Whatever styles you would choose, there are a lot of choices available in the market. For example, butterfly gift boxes for women, Christmas-tree shaped candy boxes if you're planning a Christmas wedding, cute emoji gift boxes, glasses-shape plastic box, personalized UFO candy boxes (especially for young guests), etc. There are too many...Whatever boxes you may chooses, try not to use clear PVC gift boxes. Although PVC folding plastic gift boxes are crystal clear, elegant and can be color printed and most importantly, much cheaper, they are not a good choice. Not only do such favor boxes imply cheap, but also they can hardly be reused nor recycled, and thus are not friendly to the environments.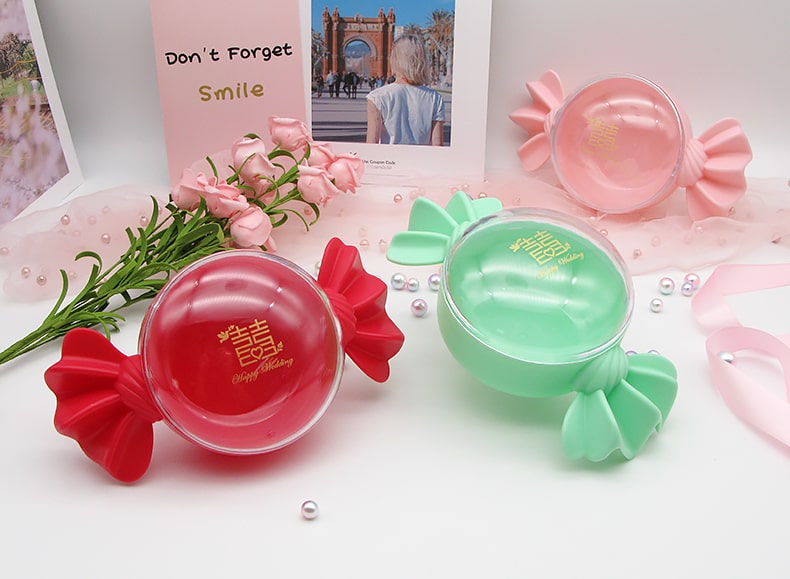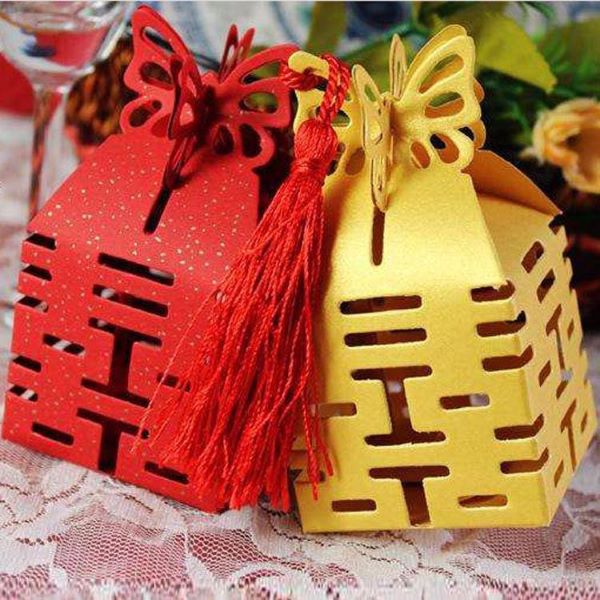 What kind of favor candies to put inside?
A very popular and classic idea is to fill them with specifically colored chocolate balls. Most candy stores sell them in every color of the rainbow to ensure you get the colors you desire. This makes it easy to double a delicious treat as an elegant decoration by choosing only the colors of the wedding. Chocolates are also available wrapped in paper or foil in the color of your choosing. Many couples find that this is the way to go because everybody loves chocolate and it will certainly keep the younger guests very happy. In addition, there are so many different kinds of chocolates to choose from, whether they are milk, dark, white, or even filled with some sort of fruit, mint, or caramel filling.
Similarly, whether the wedding is near Valentine's Day, it might be a good idea to fill the bins with candy hearts. It is possible to order candy hearts online with personalized messages (and also put them in heart-shaped Valentines chocolate boxes), but also with the traditional messages that make cute little accents for wedding decor. Using these is a great way to spread the love of the event to all the guests and provide a sweet treat as well! Of course, there are so many different candies that you can choose from, and you can even use several types of candies to meet varied needs from your diverse guests.